AiryDisc
Freaking Illuusions
2021.08.01
#AFM-2021#04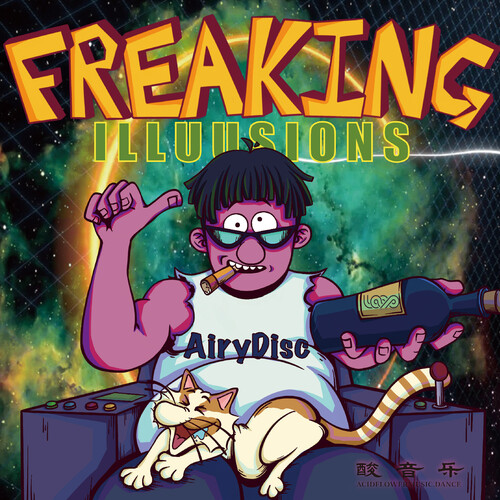 来自云南曲靖的制作人 / DJ -
AiryDisc
重磅出击!
也许你还不熟悉这个名字
但是没关系,他用两首歌的EP《Freaking illuusions 异幻奇象录》
为大家发出第一张名片 同时也正式加入Acid Flower Music的制作人阵营。
是否很多时候厌倦了Psytrance的一成不变与黑暗?
异幻奇象录 - 融合大量放克和真实器乐元素 以及天真但不廉价的快乐!
Let's get Funked up 洗刷你的耳朵 :)
Acid Flower Music is proud to present their latest two tracks EP
《
Freaking illuusions
》 from our own talent
AiryDisc
!
Maybe you're not familiar with the name yet, but it doesn't matter. We issued the first business card for everyone with all his "strange illusions".
Are you sometimes tired of the invariance and darkness of Psytrance?
Here he brings the combination of the
classic funky sounds
and
real instrumental elements
, as well as naive but not cheap happiness!
Let's get Funked up! and this is just the beginning :)
released
August 1, 2021
Credits:
制作人Producer:
AiryDisc
吉他/guitarist :
也童
(Freaking illusions )
吉他/guitarist :
袁寅
(Funfair phantoms )
贝斯/bass guitarist:
赵早
(Freaking illusions)
封面/cover art :
Bourbon
Mastered by
Moksha Mantra
ॐ ॐ ॐ ॐ ॐ ॐ ॐ ॐ ॐ ॐ ॐ ॐ ॐ ॐ ॐ ॐ ॐ ॐ ॐ ॐ ॐ
Our Music Is Free, BUT DONATE IF YOU CAN, this will keep us moving further....
我们的音乐是免费,但是你的帮助可以让我们走得更远!!
发行平台:

1
Freaking Illuusions

AiryDisc
(中国)
2
Funfair Phantoms

AiryDisc
(中国)